Tropical House is a sub-genre of Deep House whilst also being a sub-genre of House Music. It differentiates itself from Deep house as it can be described as having a more uplifting and relaxing sound. The tempo of these songs is a little slower than deep house and does not use the pumping compression effect of "big room" Electro House. It usually includes some tropical instruments such as steel drums, marimba, or even pan flute.
Currently, Tropical House is one of the most popular and fastly rising House genres. It is rapidly getting popularized by many artists such as Kygo, Robin Schulz, Lost Frequencies, Felix Jaehn, Sam Feldt and many more. Of the most popular Tropical House Artists are Kygo & Robin Schulz.
Tipped by Billboard Magazine as the 'the next EDM superstar', Kyrre Gørvell-Dahll, a.k.a KYGO, has gone from bedroom producer to one of the most hyped electronic artists on the planet in unprecedented time. Infect, he will be one of the first EDM artists to perform at the Nobel Peace Prize Concert On December 10th in Oslo.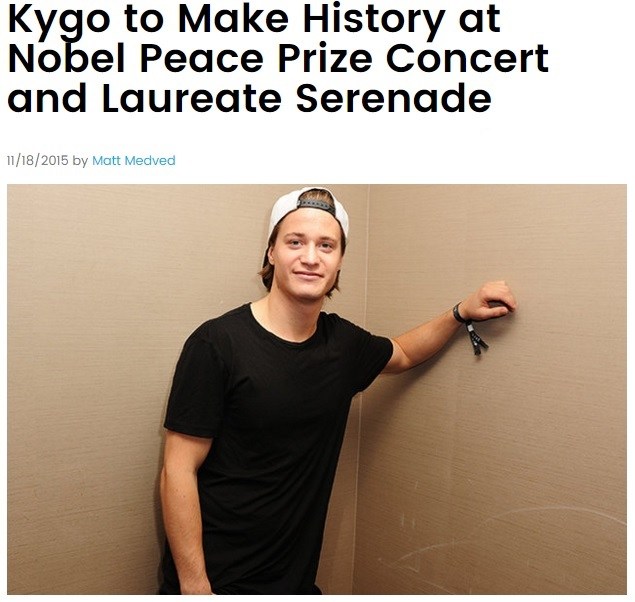 Recently, Kygo teased his debut album's February 12, 2016 release date by updating this Facebook cover picture, as well as dropped his latest single from the forthcoming LP.
Kygo will be headlining Sunburn Goa 2015 with Dimitri Vegas & Like Mike, Martin Garrix and David Guetta. Click here for full line-up.
German house music producer Robin Schulz became an overnight sensation when he scored an international smash hit with his very first commercial release, a lush remix of "Waves" by Dutch rapper Mr. Probz. This remix later received a nomination for 'Best Remixed Recording, Non-Classical' at the 57th Annual Grammy Awards. Most of his songs make use of electric guitar riffs which adds a chill and summer vibe to them.
So without further ado, here are 10 Tropical House songs that need to be in your playlist.
1) Lost Frequencies feat. Janieck Devy – Reality
Personally, for me this is the best Lost Frequencies song. Listen to it carefully and you can hear the breeze, birds chirping, and splashing water from the beach.
2) Kygo feat. Parson James – Stole the Show
James Parsons' strong vocals kick things off and drive a beautiful melody before those signature tropical house sounds come in to break things up a bit. Stole the Show has an energetic vibe throughout, making it a tune that's extremely easy to move to and very pleasant on the ears.
3) Robin Schulz feat. Francesco Yates – Sugar
This tune is carried by soft and steady percussion, which make way for a simple, yet evocative guitar lick. Francesco Yates adds an emotional top line with a catchy chorus to bring the track together.
4) Sigala – Easy Love
'Easy Love' just screams summer anthem; it's upbeat, cheery and builds and explodes in all the right places. Just listening to the first minute of the track you can see exactly why it is being play-listed absolutely everywhere right now.
5) Sam Feldt feat. Kimberly Anne – Show Me Love
Sam Feldt delivers another deep house gem with this unique remake of house classic Show Me Love. With the vocals reshaped and used in a completely other style than the original, laidback grooves, superb synth line and incredibly infectious melody, this is more than a remake.
6) Lost Frequencies – Are You With Me
The muffled quality to the music, alongside the club-esque beats played on acoustic instruments, gives this song the feel of a party which is happening really far away. If you listen carefully, you feel your brain has the ability to block out all the negative sonic energy around you, only allowing the good to pass through.
7) Felix Jaehn feat. Jasmine Thompson – Ain't Nobody
This song is a cover of Rufus & Chaka Khan's 1983 classic "Ain't Nobody." The track has been remixed and updated multiple times over the years. but Felix's version still sounds fresh. That has a lot to do with Jasmine Thompson's delicate vocal.
8) Bakermat – One Day
A superb slice of melodic house, the intensity of Martin Luther King's voice and the universal message therein. Bakermat's love of Jazz and blues managed to seep in and infuse his psychedelic beats, giving them more depth and a cheerier feel than most club music.
9) Klingande – Jubel
From the island and calypso-like drum opening and closing to the gorgeous fluttering keyboard runs, this song exudes a feeling of just having a good time. The summery house joint blends cooling vocals with a warbling saxophone that brightens up the song.
10) Faul & Wad Ad vs. Pnau – Changes
This "beautiful dance monster" has such an irresistible warm vibe that it is impossible to stand still to and which just calls out to us "to move and shake… with its tingling sax-riff that sits on a gorgeously structured beat.
Source: Billboard